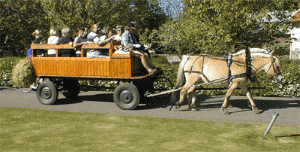 An appreciated form of tour is the one with our passenger carriage, which can seat up to 14 grown-ups.
We arrange tours according to your demands, both with and without picnic baskets. This is the perfect way to celebrate a colleague, or perhaps a present for a special occasion. The whole family will enjoy a beatiful picnic day or perhaps you would like to just gather your friends for a barbercue in the natural surroundings.
We are open to all suggestions, and we will do our best to make your tour a memory to treasure.